Compare Allvibrant to Others
Taller, wider, safer, all-terrains, we are not just saying so, on this page, we will introduce you the Allvibrant upright walker's key benefits and how does it outstand from competitors in detail.


The most important feature of an upright walker is a design with a stable base, correct weight distribution, and low centre of gravity. Because you rest your forearms on the walker your natural centre of gravity is higher than with a traditional walker. This means you need a walker with a slightly longer and wider wheelbase to compensate, otherwise you risk tipping the walker over.
The Allvibrant uses 10" front wheels to prevent you from tipping over, some competitors use 8" front wheels and bad design make them easy to be tipped, safety first!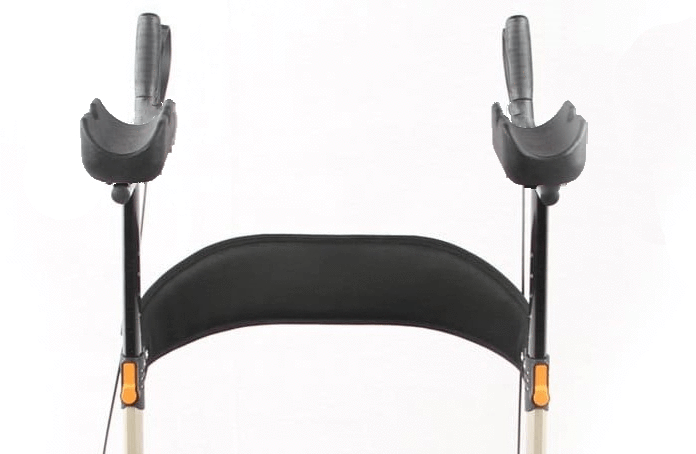 The upright walker is designed to be narrow enough to go through doorways, and that causes it may be uncomfortable to be sit with for some users with wider shoulders.
Our solution on this is to move the armrests on both sides out a little bit so you don't need to be slouching. Not as simple as it seems, this change is determined under many tests and feedback to meet both safe use requirements (gravity distribution) and most users' comfort.

Most of the competitors' upright walkers are modified under Asian rollators, quality asides, American seniors got an average bigger size than Asians, the Allvibrant's height is adjustable from 4'11" to 6'1" (competitors are mostly up to 5'11").
The Allvibrant's height adjustment is easy and quick with one button, some of the competitors use mechanical buckle design, you'll need to press a pin hard and repeatedly to adjust the height.

Lighter and Longer Warranty
Most of the competitors' upright walkers are weighted over 24 pounds, making it difficult for an elder to carry.
The Allvibrant weights only 18 pounds, we can't guarantee you that you can lift it effortlessly, but it should be easier to be put in your car.
Our standard warranties represent our confidence in the materials and workmanship of your new Allvibrant.
We offer Lifetime warranty on frame under normal use and 1 year for non-metal parts, most competitors only offer a 3-6 months warranty on accessories.

Personal Item at Your Fingers
The Allvibrant's personal item bag can be attached to the arms makes you get the item you need without bending over.
As of this article is written, we are the only brand that supports such feature, shopping in a smooth experience with Allvibrant!